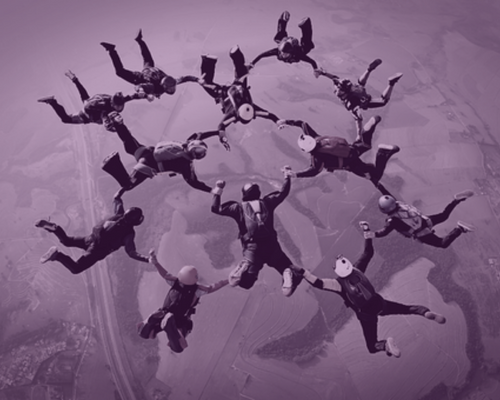 "Learn continually – there's always 'one more thing' to learn!" Steve Jobs
Do you know how many times we've been asked by fellow marketers and CEOs alike to teach what we know about SaaS marketing? It's a lot – and enough times to pique our interest and explore what it might look like…
However, there's quite a difference between knowing what you know and teaching it. We're not a team to shy away from a challenge, so we took the plunge and created Proxi LEARN.
Here's some of the thinking combined with our experience that made us recognise the need for a practical way to grow SaaS marketers.
If a Kiwi SaaS company has a marketer at all, they are often a one-person, generalist 'team'. They've joined a SaaS company in marketing by pure luck and have limited experience in growing a SaaS company or much knowledge about entering new markets or verticals. Typically and under instruction, they carry out some marketing activities over a short period of time and experiment a bit to see what works. When it comes to a budget, they are usually working on the smell of an oily rag and competing against larger in-market teams with bigger budgets, access to specialised resources and a full-blown marketing stack.
Marketing is working hard and 'doing lots' but just not producing the results the CEO wants or expects.
Why is that? It's usually because the company and marketing strategy and goals are not aligned.
In our conversations with CEOs, they've asked "How can I be confident that our SaaS marketing plan will deliver tangible outcomes and ARR growth?" Whilst their marketers wonder: "How do I get buy-in from my leadership team when everything is deemed important and urgent, we have a scattergun approach to marketing and get random results that no one is happy with?"
Get on the same page…
What needs to happen for the marketer to deliver the results the CEO wants and how do they figure out where to focus to get the outcomes the business depends on?
It's a conundrum, and it's the reason why we decided to share how we do it with Proxi LEARN 'World-Class SaaS Marketing Plan'. It needs, both parties to be on the same page with a marketing strategy and plan developed and aligned with business strategy and goals and that will deliver on the required outcomes. Planned, executed and measured…
Turn over a new leaf – grow with Proxi LEARN.
Growing SaaS marketers
Proxi LEARN is a unique course designed for SaaS marketers by SaaS marketers, to:
help align marketing with the business and its leaders, and
empower hard-working marketers to develop and execute a marketing strategy that delivers business outcomes to a realistic budget
Two of our founders and Proxi CMOs, Jane Smallfield and Christelle Blanchet-Aissaoui developed a ten-week online learning programme which is run in small cohorts of six to eight beginner or not-so-new marketers, throughout the year.
The programme is tailored to fit the marketer, their company and the journey they're both on. It's packaged into bite-size chunks of practical steps that can be implemented immediately and foster alignment with the company strategy. No University can teach this and it would take years to learn.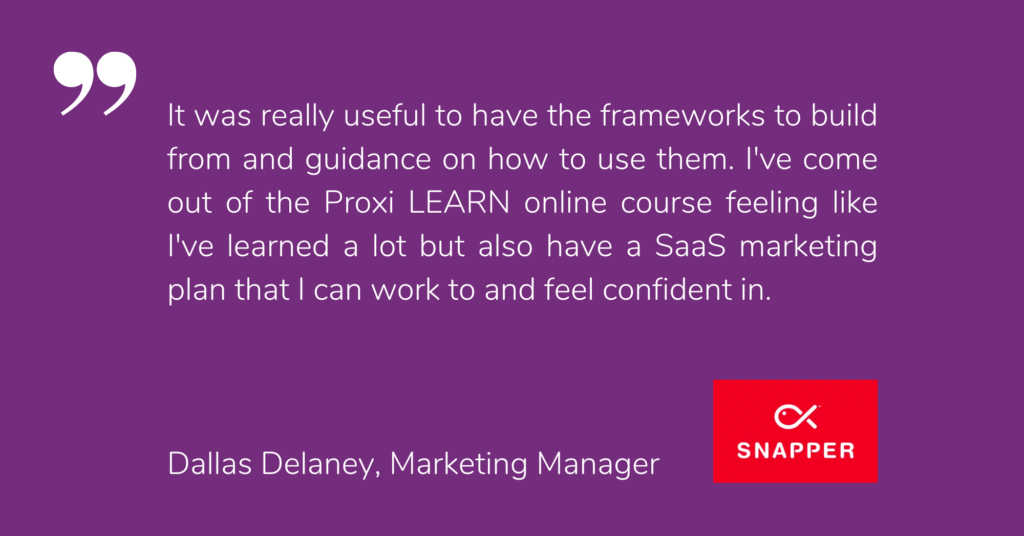 After running a few cohorts in 2022, we ramped things up to help more SaaS marketers grow and deliver meaningful outcomes for their businesses.
If you're a SaaS CEO, or an advisor to one, reading this article and are looking to fast-track the business growth, we encourage you to invest in your marketer.
If you're a SaaS marketer smart enough to realise you don't know everything – yet, have a chat with your CEO and contact us to enquire about our next cohort.
It's always the right time to start planning!